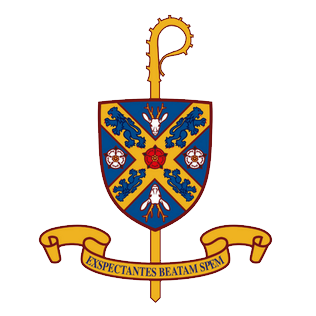 Address
Bishop`s House, 16 Cambridge Road, Middlesbrough, Cleveland, TS5 5NN
Curial Offices, 50a The Avenue, Linthorpe, Middlesbrough, SA6 6HZ

Catholic Priests and People
Rt Rev Terence Drainey - Bishop
- Communications Officer
Rt Rev Augustine Harris - Bishop (Deceased)
Mr Kevin Duffy - Director of Schools
Rt Rev Thomas Kevin O`Brien - Bishop (Deceased)
- Director of Education
Dr Jim Whiston - Director of Finance

Retired People:
Right Rev John Crowley - Retired Bishop

Contact
Deaneries
Central - Deanery of St Wilfrid,
Northern - Deanery of Our Lady of Perpetual Help,
Southern - Deanery of St John of Beverley,
Coastal - Deanery of St Hilda,

Catholic Parishes
St Mary`s Cathedral, Coulby Newham
Sacred Heart, Middlesbrough
St Joseph, Middlesbrough
St Thomas More, Middlesbrough
Holy Name of Mary, Linthorpe
St Francis of Assisi, Acklam
St Alphonsus Church, North Ormesby
Our Lady of Perpetual Help, Middlesbrough
St Clare of Assisi, Brookfield
St Bernadette, Nunthorpe
St Andrew`s Parish, Teesville
Ss Joseph & Francis Xavier, Richmond
St Mary, Wycliffe
Ss Peter & Paul, Leyburn
Ss Simon & Jude, Ulshaw Bridge
Ss Mary and Joseph, Bedale
Sacred Heart, Northallerton
All Saints, Thirsk
St Joan of Arc Garrison Memorial Church, Catterick Garrison
St Mary, Crathorne
St Joseph, Stokesley
St Margaret Clitherow, Great Ayton
Ss Mary & Romuald, Yarm
St Therese of Lisieux, Ingleby Barwick
Christ the King, Thornaby
St Paulinus, Guisborough
Our Lady of Lourdes, Saltburn
St Anthony of Padua, Brotton
Ss Joseph & Cuthbert, Loftus
St Hilda, Whitby
St Hedda, Egton Bridge
Our Lady of the Sacred Heart, Lealholm
St Anne, Ugthorpe
Our Lady Star of the Sea, Staithes
Ss Leonard & Mary, Malton
St Joseph, Pickering
St Laurence`s Abbey, Ampleforth
Our Lady and St Benedict, Ampleforth
St Mary, Helmsley
St John the Evangelist, Easingwold
St Wilfrid, York
St Joseph, Clifton
St George, York
St Aelred, York
English Martyrs, York
Our Lady, Acomb
St Margaret Clitherow, Haxby
St Paulinus, York
Ss Mary & Joseph, Pocklington
St John of Beverley, Beverley
Our Lady of Perpetual Help, Market Weighton
St John the Baptist, Holme-Upon-Spalding Moor
Our Lady & St Edward, Driffield
Our Lady Star of the Sea Catholic Parishes of Bridlington, Eastfield and Filey, Bridlington
Holy Cross, Cottingham
St Anthony and Our Lady of Mercy, Hull
St Vincent de Paul, Hull
Our Lady of Lourdes & St Peter Chanel, Hull
St Charles Borromeo, Hull
Our Lady of Lourdes, Hessle
St Stephen`s Pastoral Centre, Hull
St Francis of Assisi, Hull
St Mary, Queen of Martyrs, Hull
Ss Mary & Joseph, Hedon
Sacred Heart, Hornsea
Most Holy Sacrament, Marton
Ss Peter & John Fisher, Withernsea
Our Lady of Mount Grace, Osmotherley
Our Lady & St Chad, Kirkbymoorside
John Paul Centre, Middlesbrough
Scarborough Catholic Parishes, Scarborough
Shrine of Our Lady of Mount Grace (The Lady Chapel), Osmotherley
Sacred Heart Parish, Hull
West Hull Parish, Hull
Blessed Nicholas Postgate, Redcar and Marske
St Willibrord University Chaplaincy, Hull
St Patrick, Thornaby
More House University Chaplaincy, Heslington
St Mary Church, Filey
St George`s Church, Eastfield
St John of God Hospital, SCORTON

Catholic Groups/Organisations/Religious Orders
Education Services - Education/Schools

About Diocese of Middlesbrough
Roman Catholic Diocese of Middlesbrough
Part of the Catholic Church - you can find other Catholic Churches, Catholic Schools or Religious Orders/Houses and Chaplaincies nearby above. Or you can use the Find a Church Near Me box above to search for a Church, School etc.
Useful Definitions of the Structures in the Catholic Church
What is a Catholic Bishops' Conference?
An episcopal conference, sometimes called a conference of bishops, is an official assembly of the bishops of the Catholic Church in a given territory. ... Individual bishops do not relinquish their immediate authority for the governance of their respective dioceses to the conference (Wikipedia).
What is an Archdiocese?
Dioceses ruled by an archbishop are commonly referred to as archdioceses; most are metropolitan sees, being placed at the head of an ecclesiastical province. A few are suffragans of a metropolitan see or are directly subject to the Holy See.
The term 'archdiocese' is not found in Canon Law, with the terms "diocese" and "episcopal see" being applicable to the area under the ecclesiastical jurisdiction of any bishop.[8] If the title of archbishop is granted on personal grounds to a diocesan bishop, his diocese does not thereby become an archdiocese (Wikipedia).
What is a Diocese?
The group of churches that a bishop supervises is known as a diocese. Typically, a diocese is divided into parishes that are each overseen by a priest.
The original dioceses, in ancient Rome, were political rather than religious. Rome was divided into dioceses, each of which was made up of many provinces. After Christianity became the Roman Empire's official religion in the 4th century, the term gradually came to refer to religious districts. The Catholic Church has almost 3,000 dioceses. The Greek root of diocese is dioikesis, "government, administration, or province." (Vocabulary.com).
As of April 2020, in the Catholic Church there are 2,898 regular dioceses: 1 papal see, 649 archdioceses (including 9 patriarchates, 4 major archdioceses, 560 metropolitan archdioceses, 76 single archdioceses) (Wikipedia).
What is the difference between a Diocese and an Archdiocese?
Each diocese is within a Province - a group of Dioceses - the Archdiocese is the main Diocese within that Diocese. The bishop of that Archdiocese is therefore automatically an Archbishop. If a bishop has been made an Archbishop personally is referred to as an Archbishop but it does not make their Diocese an Archdiocese.
What is a Deanery?
A subdivision of a diocese, consisting of a number parishes, over which presides a dean appointed by a bishop. The duty of the dean is to watch over the clergy of the deanery, to see that they fulfill the orders of the bishop, and observe the liturgical and canon laws. He summons the conference of the deanery and presides at it. Periodically he makes a report to the bishop on conditions in the deanery.www.catholicculture.org
What is a Parish?
In the Roman Catholic Church, a parish (Latin: parochia) is a stable community of the faithful within a particular church, whose pastoral care has been entrusted to a parish priest (Latin: parochus), under the authority of the diocesan bishop. It is the lowest ecclesiastical subdivision in the Catholic episcopal polity, and the primary constituent unit of a diocese. In the 1983 Code of Canon Law, parishes are constituted under cc. 515–552, entitled "Parishes, Pastors, and Parochial Vicars." Wikipedia