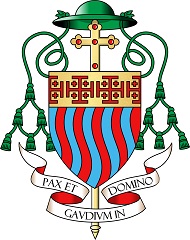 Address
Bishop`s House, High Oaks, Pease Pottage, West Sussex, RH11 9AJ
DABCEC, 4 Southgate Drive, Crawley, West Sussex, RH10 6RP

Catholic Priests and People
Rt Rev Richard Moth - Bishop
Ms Sue Jennings - Secretary
Ms Sue Jennings - Secretary
Mrs Hazel State - Archivist
Mrs Angela Fishenden - Matrimonial Tribunal Administrator
Mr Philip Wright - Safeguarding Co-ordinator
- Child Protection Priest Advisor
Rt Rev Dom Stephen Ortiger - Episcopal Vicar for Religious Life
- Vocations Director
Mgr Canon Anthony Barry - Episcopal Vicar for Pastoral Affairs
- Webmaster
- Diocesan Communications Officer
Mr Fergus Brotherton - Finance Director
Mgr Benedict O`Shea - Vicar General
Mgr John Hull - Vicar General
Canon Jonathan Martin - Chancellor
Mrs Marie Ryan - Education Service Director
Mr Simon Parr - Education Officer
Mrs Pauline Groves - Editor
Ms Elizabeth Hembrey - Bishop`s Secretary
Mrs Bernadette Connor - Education Service Deputy Director

Retired People:
Rt Rev Kieran Conry - Bishop Emeritus

Contact
Correspondence Address
Bishop`s House
High Oaks
Old Brighton Road North
Pease Pottage
West Sussex
RH11 9AJ
Phone
0129 352 6428
Click here to email Diocese of Arundel and Brighton
www.abdiocese.org.uk
Deaneries
Cathedral,
Brighton and Hove,
Crawley,
Eastbourne and St Leonards-on-Sea,
Epsom and Redhill,
Guildford,
Lewes,
Mayfield,
Weybridge,
Woking,
Worthing,

Catholic Parishes
The Cathedral Parish, Arundel
St Richard of Chichester with The Witterings, Chichester with The Witterings
The Sacred Heart, Cobham
Convent Chapel, Copthorne
Cranleigh and Bramley Parish, Cranleigh and Bramley
Crawley Parish, Crawley
St Mary, Mother of Christ, Crowborough
St Joseph`s, Dorking
Our Lady and St Peter, East Grinstead and Lingfield
Effingham and Fetcham, Effingham and Fetcham
St John`s C of E, Farncombe
English Martyrs, Goring-by-Sea
St Theodore of Canterbury, Gossops Green
Haslemere, Haslemere, Hindhead and Chiddingfold
St Luke, Hurstpierpoint
St Hugh of Lincoln, Knaphill
St Peter, Shoreham-by-Sea
Chaplaincy for University of Sussex, Brighton (University Chaplaincy of Sussex)
Corpus Christi, Henfield
St Erconwald, Walton-on-Thames
Our Lady of Mount Carmel and St Wilfrid, Selsey
Catholic Shrine of Our Lady of Consolation, Horsham
The Holy Family, Addlestone
The Parish of Adur Valley, Shoreham, Steyning and Upper Beeding
Our Lady Star of the Sea, Littlehampton
Ash and Heath End, Ash and Heath End
St Michael, Ashtead
St Ann, Banstead
Our Lady Immaculate and St Michael, Battle
The Parish of Our Lady of the Rosary, Bexhill-on-Sea
St Gabriel and Our Lady of Consolation & St Francis, Billingshurst
The Catholic Parish of Bognor Regis and Slindon, Bognor Regis and Slindon
Our Lady of the Assumption, Bosham
Catholic Parish of East Brighton, Brighton (East)
St Joseph - See Catholic Parish of East Brighton, Brighton
St Mary, Brighton (Preston Park)
St Mary Magdalen, Brighton
St Thomas More, Brighton (Patcham)
St Wilfrid & St Edward The Confessor, Burgess Hill and Keymer
Burwash and Heathfield, Burwash with Heathfield
Camberley and Bagshot, Camberley and Bagshot
The Sacred Heart, Caterham
St Anne, Chertsey
Our Lady Star of the Sea, East Preston
Our Lady of Ransom, St Gregory and St Agnes, Eastbourne
St Agnes, Eastbourne
Christ the King and St Joachim, Eastbourne (Langney and Hampden Park)
St Gregory, Eastbourne
St Joseph, Epsom
The Holy Name, Esher
St Clement, Ewell
St Joan of Arc, Farnham
The Holy Spirit, Fetcham
Our Lady of the Forest, Forest Row
Our Lady Queen of Heaven, Frimley
Inter-Faith Chapels, London Gatwick Airport
St Edmund, King and Martyr, Godalming
St Mary of the Angels, Gomshall
The Catholic Parish of Guildford, Guildford
Parish of St Wilfrid & St George, Hailsham and Polegate
Our Lady of Lourdes, Haslemere
St Mary Star of the Sea, Hastings
St Paul, Haywards Heath
The Holy Family, Farnham
St Catherine, Heathfield
St John the Evangelist, Uckfield
All Saints, Hersham
St Anselm, Hindhead
English Martyrs, Horley
St John the Evangelist, Horsham
Sacred Heart, Hove
St Peter, Hove
St George, Hove
Our Lady and St Peter, Leatherhead
St Pancras, Lewes
St Bernard, Lingfield
Littlehampton with Rustington, Littlehampton with Rustington
St Thomas of Canterbury, Mayfield
St Pius X, Guildford
St Teresa of the Child Jesus, Redhill
The Divine Motherhood and St Francis of Assisi, Midhurst
St Joseph, Milford
Molesey and Hersham, Molesey and Hersham
St Francis of Assisi, Brighton
The Sacred Heart, Newhaven
St Teresa of Liseux - See Battle, Northiam
Oxted and Warlingham, Oxted and Warlingham
Seaford with Peacehaven, Seaford with Peacehaven
Petworth and Midhurst Parish, Petworth and Midhurst
Holy Rood, Pevensey Bay
St George, Polegate
The Parish of the Nativity of the Lord, Redhill, Reigate and Merstham
The Holy Family, Reigate
All Saints (C of E), Horsham
St Peter, Prince of Apostles, Rotherfield
Rottingdean with Woodingdean, Rottingdean with Woodingdean
St Joseph, Rustington, Littlehampton
St Mary, Guildford
St Anthony of Padua, Rye
The Parish of the Good Shepherd, St Leonards-on-Sea
St Thomas More, Seaford
Our Lady of the Rosary - See St Mary Magdalen, Bexhill-on-Sea
St Michael & All Angels, Southwick
Our Lady of Fatima, Staplefield
Our Lady of England, Storrington
The Sacred Heart, Sunningdale
St Edward, Guildford
St John the Evangelist, Tadworth
St Mary`s Parish Church (C of E), Tatsfield
Our Lady of Lourdes, Thames Ditton
Uckfield with Heron`s Ghyll, Uckfield with Heron`s Ghyll
The Sacred Heart, Wadhurst
St Erconwald, Walton-on-Thames
Our Lady Help of Christians, West Byfleet
St John the Evangelist, Horsham and West Grinstead
St Dunstan, West Hoathly
Christ the Prince of Peace, Weybridge
St Peter, East Wittering
St Dunstan, Woking
Worth Abbey Parish, Worth
St Mary of The Angels, Worthing
East Worthing Parish, Worthing (East)
St Michael`s Catholic Church, Worthing (Durrington and High Salvington)
Corpus Christi, Henfield
The Parish of St Cuthbert, Egham and Englefield Green

Catholic Groups/Organisations/Religious Orders
The Schools Service - Education/Schools

About Diocese of Arundel and Brighton
The Roman Catholic Diocese of Arundel and Brighton serves Sussex and those parts of Surrey outside Greater London Boroughs.
Part of the Catholic Church - you can find other Catholic Churches, Catholic Schools or Religious Orders/Houses and Chaplaincies nearby above. Or you can use the Find a Church Near Me box above to search for a Church, School etc.
Useful Definitions of the Structures in the Catholic Church
What is a Catholic Bishops' Conference?
An episcopal conference, sometimes called a conference of bishops, is an official assembly of the bishops of the Catholic Church in a given territory. ... Individual bishops do not relinquish their immediate authority for the governance of their respective dioceses to the conference (Wikipedia).
What is an Archdiocese?
Dioceses ruled by an archbishop are commonly referred to as archdioceses; most are metropolitan sees, being placed at the head of an ecclesiastical province. A few are suffragans of a metropolitan see or are directly subject to the Holy See.
The term 'archdiocese' is not found in Canon Law, with the terms "diocese" and "episcopal see" being applicable to the area under the ecclesiastical jurisdiction of any bishop.[8] If the title of archbishop is granted on personal grounds to a diocesan bishop, his diocese does not thereby become an archdiocese (Wikipedia).
What is a Diocese?
The group of churches that a bishop supervises is known as a diocese. Typically, a diocese is divided into parishes that are each overseen by a priest.
The original dioceses, in ancient Rome, were political rather than religious. Rome was divided into dioceses, each of which was made up of many provinces. After Christianity became the Roman Empire's official religion in the 4th century, the term gradually came to refer to religious districts. The Catholic Church has almost 3,000 dioceses. The Greek root of diocese is dioikesis, "government, administration, or province." (Vocabulary.com).
As of April 2020, in the Catholic Church there are 2,898 regular dioceses: 1 papal see, 649 archdioceses (including 9 patriarchates, 4 major archdioceses, 560 metropolitan archdioceses, 76 single archdioceses) (Wikipedia).
What is the difference between a Diocese and an Archdiocese?
Each diocese is within a Province - a group of Dioceses - the Archdiocese is the main Diocese within that Diocese. The bishop of that Archdiocese is therefore automatically an Archbishop. If a bishop has been made an Archbishop personally is referred to as an Archbishop but it does not make their Diocese an Archdiocese.
What is a Deanery?
A subdivision of a diocese, consisting of a number parishes, over which presides a dean appointed by a bishop. The duty of the dean is to watch over the clergy of the deanery, to see that they fulfill the orders of the bishop, and observe the liturgical and canon laws. He summons the conference of the deanery and presides at it. Periodically he makes a report to the bishop on conditions in the deanery.www.catholicculture.org
What is a Parish?
In the Roman Catholic Church, a parish (Latin: parochia) is a stable community of the faithful within a particular church, whose pastoral care has been entrusted to a parish priest (Latin: parochus), under the authority of the diocesan bishop. It is the lowest ecclesiastical subdivision in the Catholic episcopal polity, and the primary constituent unit of a diocese. In the 1983 Code of Canon Law, parishes are constituted under cc. 515–552, entitled "Parishes, Pastors, and Parochial Vicars." Wikipedia